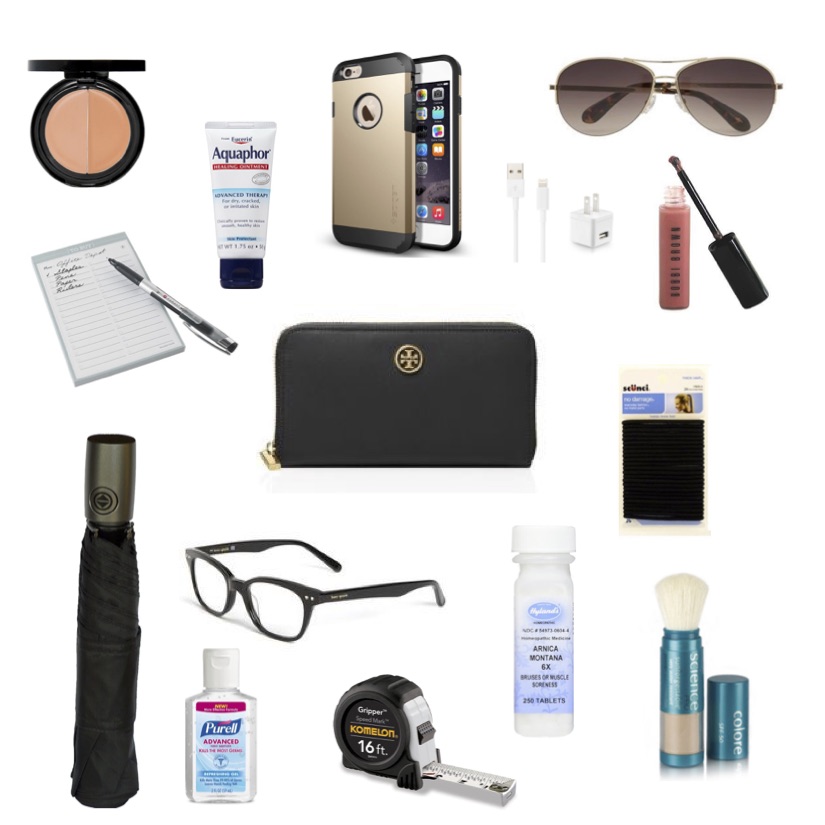 I am a big purse kind of gal. My items are simple but essential. Here is a look inside my bag!
You have probably heard me talk in earlier blogs about Eve Pearl Concealer. I have used it for years and no matter how many other concealers I try I always go back to this one. I keep one at home and one in my purse so I am never without.
Aquaphor is my lifesaver. I use it for lips, dry cuticles and any other area that needs a little TLC.
This iPhone 6 Case has saved me from many dropped mishaps. I love the gold and black color combination.
Keeping a Power Cord with you saves you from panic when you see that last bar on the battery. Everywhere seems to have an area available to charge your phone so why not take advantage?
These rimless Marc Jacobs Sunglasses are my absolute favorites. I have repurchased them a few times because my daughters keep borrowing them and they seem to never reappear!
This Bobbi Brown Lip Gloss has been a staple of mine for years. It matches my natural lip tone perfectly. It gives me a simple everyday look without being too much.
I keep a Notepad and pen with me at all times. I use it to make lists and jot down notes while I am with my clients.
My Tory Burch Wallet has been with me for a couple of years. I am a picky wallet person and this fits my needs in multiple ways. I use it alone or throw it in different bags. As an organizer it is essential to have different compartments in my wallet to keep me organized and this is perfect!
It has been raining in Florida everyday so I have been keeping an Umbrella with me at all times. No one likes getting caught in a rain storm especially after you get your hair done!
I admit I am at the age where I need cheaters. These Kate Spade Reading Glasses are functional and stylish. They have that Claire from House of Cards look which is my new favorite.
Purell is always in my bag. I am always asked to share especially at restaurants. Sometimes I carry two to make sure I don't run out.
I am always measuring organizing solutions for my clients so keeping a Tape Measure is a must.
Arnica is a just in case item. It works great for bruising and swelling.
You can never have too many Hair Bands when you have hair like mine. The habit started when my girls were young and has kind of stuck with me.
This Colorscience SPF 50 powder sunscreen is the latest must have in my bag. I apply sunscreen in the morning and then reapply this throughout the day.
Hoped you enjoyed a look at the must haves in an organizers bag!