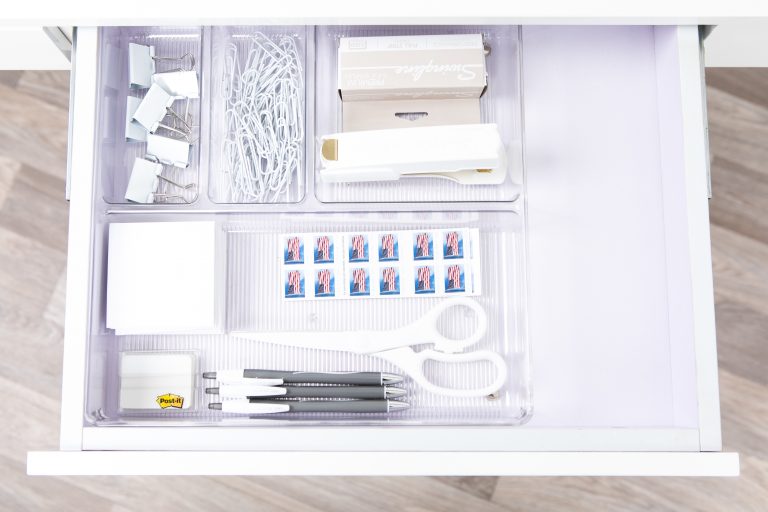 I have always worked from home so the office is one of my favorite spaces to organize. Now with the current health situation, more people are having to work from home so I wanted to share simple tips to get your space set up, organized and help you be more productive at home.
I usually start by establishing a workspace that is calm and stress-free but I know that may be impossible with kids home from school or if you live in a small space. You don't need a dedicated room for an office it's more important to designate an area and for many of you, this is a temporary situation so you might be using the kitchen table. Definitely not ideal but my goal is to help you establish a routine and get organized. I recommend when setting up an office to purge what you don't need and what does not belong in an office, sort like items, keep the space simple and set up a system that works for you. What works for one person may not work for another so find out how you work best and implement it. Here are a few simple tips I recommend when setting up and organizing a home office.
Shredder
I know this sounds obvious but you have no idea how many homes I go into and they do not own a shredder and the paper clutter is out of control. Open the mail and shred immediately all those credit card applications and anything else that you don't need. Keep countertops free of paper clutter by spending a few minutes each day shredding or recycling paper that is no longer needed.
Drawer Organizers
If you want to keep an office drawer neat and organized invest in a drawer organizer. It will save you frustration, aggravation and time when searching for items. There are many different types but this is one of my favorites because it keeps all the essentials in one organizer.
Office Drawer Essentials
Stapler, pens, pencils, scissors, paperclips, post-it notes and tape are some of the everyday essentials to keep in an office drawer. Corral all office supplies in one area so you know what you own it will save time and money. No more searching for the paperclips or scissors and repurchasing what you already own.
Desk Top Collator
I love having a collator on my desk to keep everyday files at my fingertips. Label folders and keep papers you need to sign, bills to pay, orders placed, etc. It is definitely an everyday essential I use in my office.
Note Pad
I love notebooks and notepads for jotting down notes and making lists. Although we all have phones to keep notes sometimes it is just easier to write it down.
File System
Whether it's a desktop file, scanning papers and sorting into computer files or investing in a file cabinet choose what works best in your space. This file cabinet is on wheels so you can move it from room to room or store it in a closet when you are not using it.
Label Maker
There are many different options and price points when it comes to choosing a label maker. You can use it to label files, boxes or containers the ideas are endless. Once you own a label maker you will wonder how you lived without it!
Boxes and Containers
Use the vertical space on shelves for stacking labeled boxes or containers. Keep seldom-used items or backstock in containers for easy access. 
This is going to be the new normal for a while so it is important to establish a new routine that will minimize paper clutter, save time and simplify your life. Keep checking back to get tips to get purge and organize your home!

SaveSave
SaveSave
SaveSave
SaveSave
SaveSave
SaveSave
SaveSave
SaveSave
SaveSave