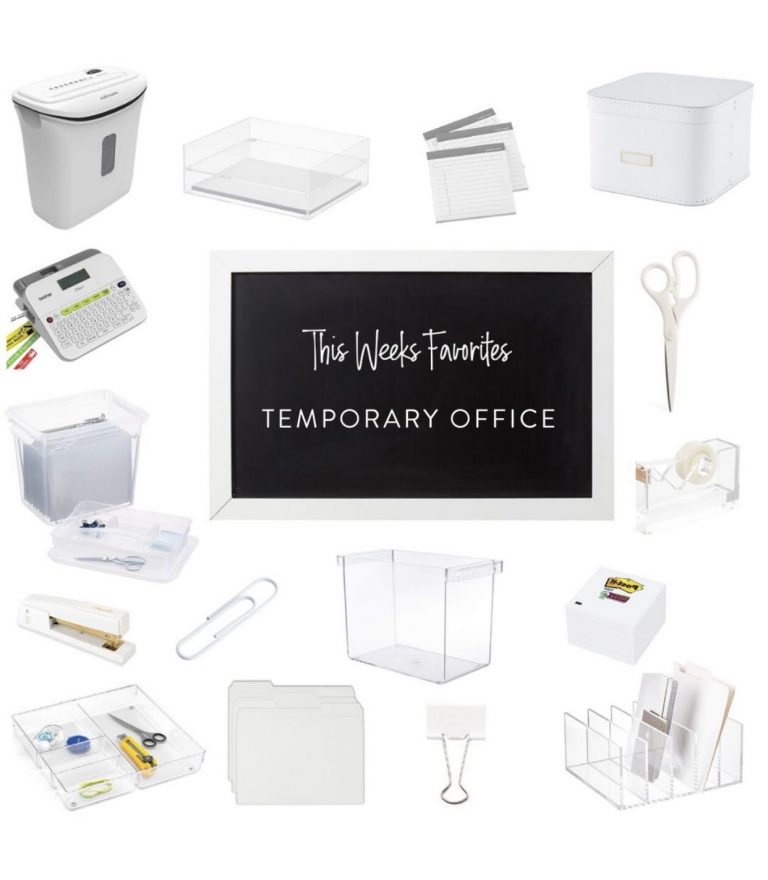 Recently I took a break from blogging to focus more time on family, moving, and getting my own home unpacked and organized after a recent renovation. I have received so many questions lately from those of you who are working from home and need help getting organized and setting up a temporary office. I thought now is the perfect time to get back to writing! Many of us thought we would be back in the workplace by July but that does not seem to be happening anytime soon. Working from home can be stressful especially when you do not have a specific area set up and no organization system in place. Today I want to share tips and suggestions on how to set up an inexpensive temporary office. The best way to be productive is to be organized!
CHOOSE A TEMPORARY SPACE 
Remember this is temporary so it doesn't have to be perfect. Your goal is to create a space that is simple and organized and will help you be more productive when working at home. In a perfect world, it would be nice to set up your office where there is some privacy with little disruptions but with kids at home that may not be an option. Do your best to find an area in your home that works for you even if it is the kitchen table. During our renovation, I set up a temporary office space not just for myself but also for my daughters who came home for a couple of months at the beginning of COVID. I used a simple folding card table as a desk and it worked great as a temporary fix. Use items that you already own and it will save you save time and money.
SIMPLIFY AND SORT
This step is so important because if you are using an area in your home that is normally not an office you need to keep it simple. Sort supplies before you begin and only have the absolute essentials. Temporary offices have to be pared down or they can get cluttered and unorganized very quickly. Keep it simple!
USE CONTAINERS
If you want to stay organized investing in the proper containers is key. Keep your office supplies organized with a desk drawer insert. Even if you don't have a desk drawer store it on a shelf and bring it out when you need it. Store office items you use less frequently in labeled boxes and keep them in a bookcase or shelf. These are a favorite because they are functional but look great too!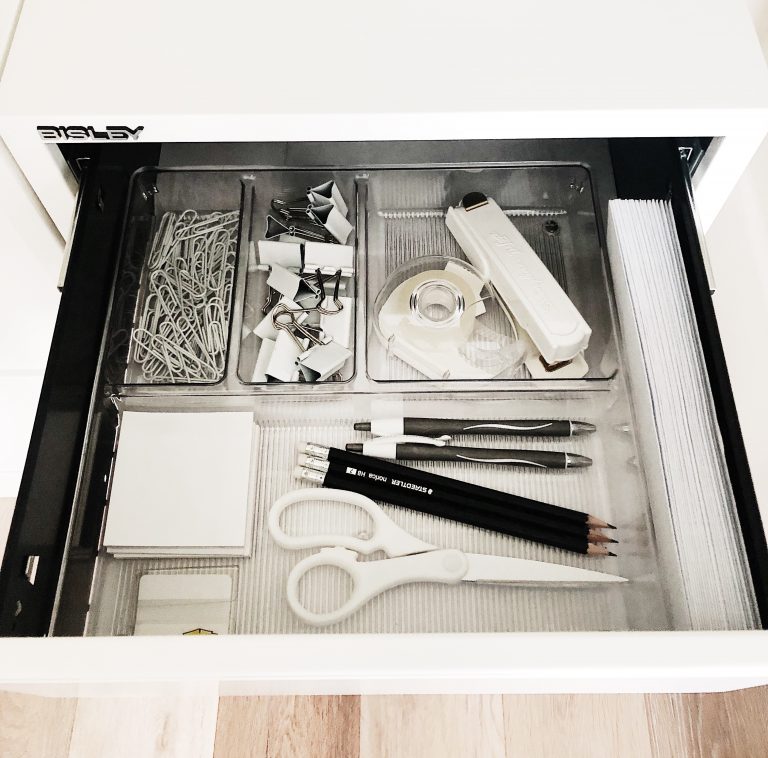 SET UP A FILE SYSTEM 
I like a portable desktop file box that can be out when you are using it but tucked away in a closet or on a shelf when not in use. I also recommend a collator to keep important files at your fingertips for easy access.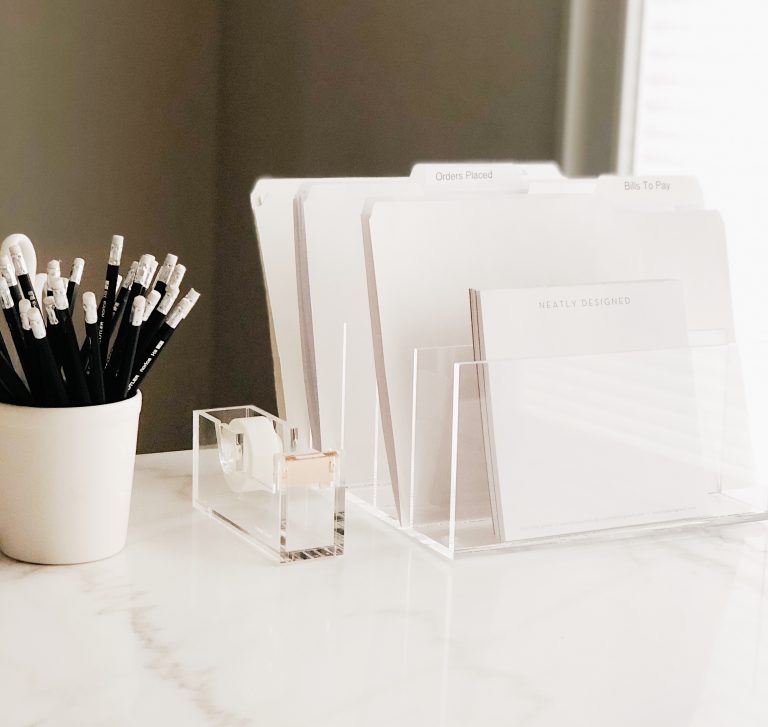 INVEST IN A SHREDDER
This is definitely essential for the simple fact that it cuts down on paper clutter. Shred old papers you no longer need and open mail near the shredder so you can shred junk mail and keep it from piling up. Every home, in my opinion, should own a shredder it helps to control the endless piles of paper clutter.
LABEL
Labeling is another important way to stay organized in an office. Label all folders, files, and containers so you know what is in them. Labeling saves time and alleviates unnecessary searching for that one thing you know you have but you can't find it!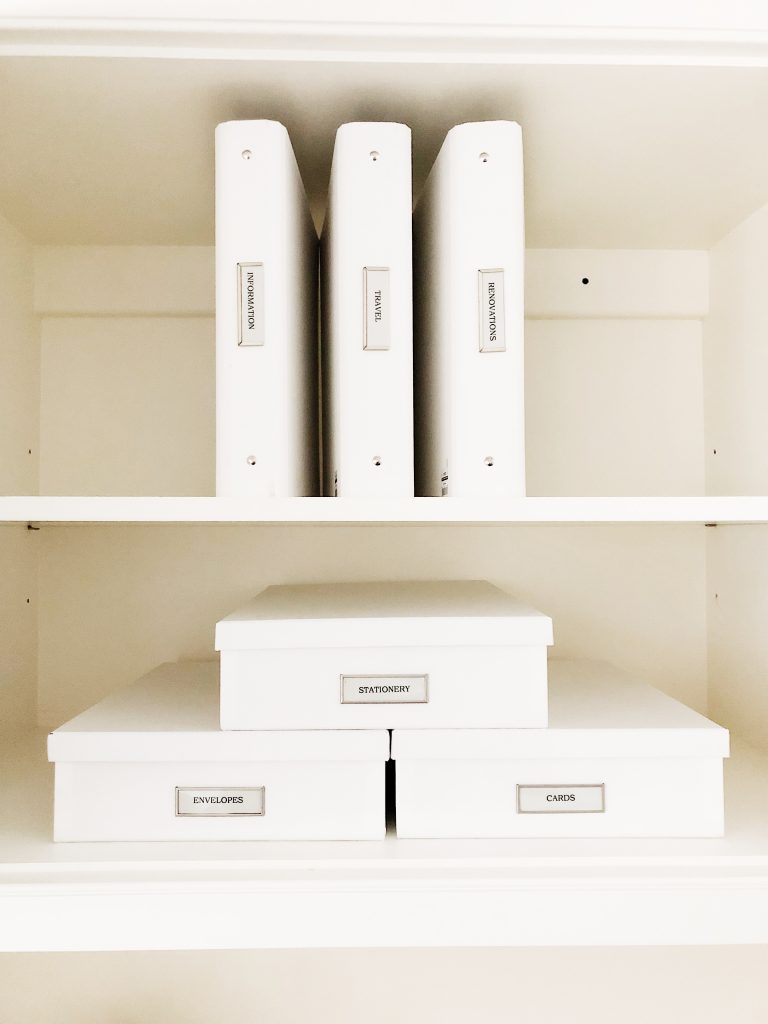 I'm so happy to be back to answer your questions. If you have a question message or email me and don't forget to follow me on Instagram @neatlydesigned for all of my latest tips on organizing and creating beautiful spaces.