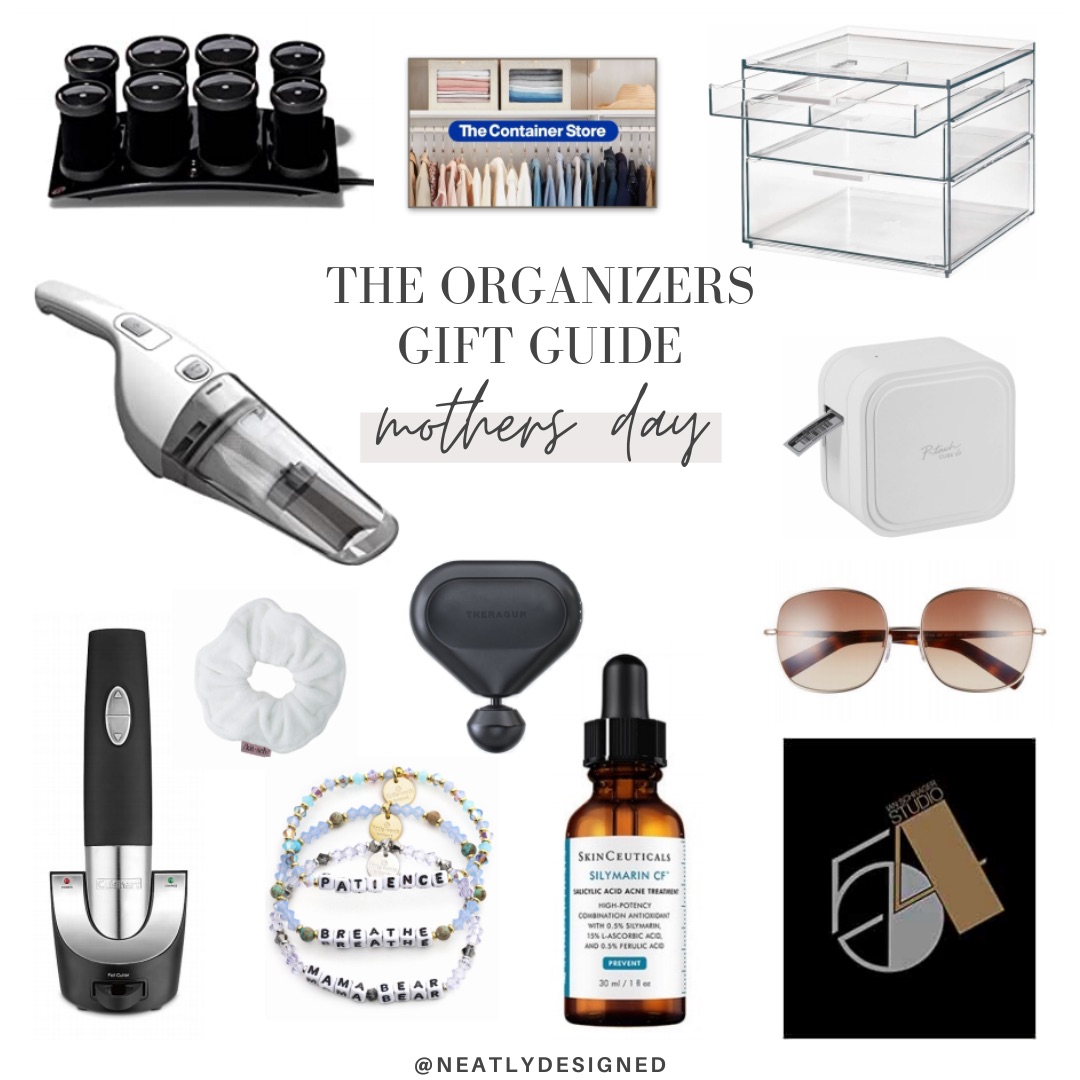 It's been a while since my last blog post so I'm excited to be back and share some of my favorite gift ideas for Mothers Day. These are all items I own and love and maybe your mom will too!
T3 Hot Rollers – These are a great gift for Mom especially now that Hot Rollers have made a big comeback this year. She will love how easy they are to use and how much curl she will get without the damage that comes from some styling tools. If she needs a tutorial on how to use them check out my YouTube video on how I style my hair with Hot Rollers.
The Container Store Gift Card – If your Mom loves to be organized this is the perfect gift. This one gift card covers every room in the house and she can order online and have items shipped if she doesn't live near a Container Store.
iDesign/Sarah Tanno Cosmetic Organizer – I recently spoke about these on Instagram and if your Mom loves makeup these are the best makeup organizers. They were created in collaboration with celebrity makeup artist Sarah Tanno so the products are amazing. They are exclusively sold on Amazon so you don't have to worry about it arriving on time!
Black + Decker Dustbuster – I had a client who owned this handheld vacuum and she had me try it and I was hooked. I loved it so much I went home and ordered my own! I keep it on the counter so I can grab it for quick cleanups, cleaning out my car, and pet hair from our new puppy. This is a gift she will love!
P-touch Cube Plus Label Maker – Label makers are not just for organizers. This label maker is a favorite because it is so easy to use. There are different tape sizes, colors, and font options and it's Bluetooth which makes it easy to take from room to room. Once mom owns this she will wonder how she managed without it.
Cordless Wine Opener – This is a great gift if your mom loves wine. This opener is cordless and simple to use with the press of a button. The design is modern and sleek so it looks good sitting on a counter.
Kitsch Hair Drying Scrunchie – I bought these with the thought I would be returning them because my hair is so thick it's hard to find items to hold it. I was wrong! These not only hold my hair but are made of microfiber material that absorbs water so they are great when your hair is wet. Moms love scrunchies so she will love this new updated version!
Theragun Mini – This is another item I have been using a lot since I gave it to my husband for Christmas LOL. He is always asking me "where is my Theragun?" If your mom works on a computer all day, is an athlete or just needs self-care at the end of the day this is the best gift. It is also portable so she can bring it with her when she travels.
Little Words Project Bracelets – My daughter gave me, her grandmother, and her sister these bracelets, and each one had a different words of inspiration. Mine says Have Hope and during this past year, it has been something I wear often and cherish. You can customize your bracelet or choose from many different inspirational words. Get one or more if you want to stack them. It's an affordable gift from a female-owned company with an inspirational message for all women.
SkinCeuticals Silymarin CF Serum – This anti-aging antioxidant is a recent find that I love! If your Mom suffers from Maskne or sun damage this new product from SkinCeuticals is a serious game-changer. It has so many good things wrapped up in one bottle. It is pricey but it has replaced multiple products I use to use and simplified my skincare routine.
Tom Ford Sunglasses – These were a great find at Nordstrom Rack. I'm a big fan of Tom Ford and when I saw these sunglasses discounted I had to hit the add to cart button. If your mom needs a new pair of sunglasses these are a great gift.
Studio 54 Book – Did your mom grow up in the seventies? If she did she will love this coffee table book. It tells the story of the legendary disco Studio 54 by the original co-owner Ian Schrager. The pictures and stories bring you back to a place that defined an era of dancing, celebrities, and glam.
Some of the links in this post are affiliate links, which means I earn a small commission at no additional cost to you. 
SHOP THE POST