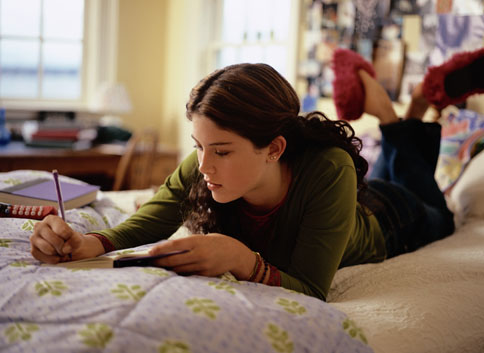 It's official I am an empty nester! No matter how prepared you are for this day it does not make it any easier. The last 48 hours before they leave for college feels like you are a contestant on a game show and the buzzer on the clock is about to ring. You have so many more things you want to say and time has run out.
When my oldest daughter was leaving for college I bought a journal and I would write down thoughts that would just pop into my head that I wanted her to remember when she was no longer under my roof. Even though I had said some of these things a thousand times before I thought if I put it in writing it may just sink in when she is reading it alone in her dorm room. I know she knows the basics that I have drilled into her head such as never go anywhere alone and wear sunscreen but in reality we have all been teenagers and what you know is not some times what you do especially when you are away from home for the first time.
As we were saying our goodbye's I slipped the journal under her pillow. That night she called and told me she read it and loved it. She is now graduated from college but kept it with her through every move and as a gift to me she later wrote a journal of all of the things she learned from me even though I thought SHE wasn't listening. It was the best gift a Mom could ever get.
Now that my youngest daughter is leaving for college I have been keeping a journal for her. At times I would get so emotional since she is the baby that I would have to take a break and come back to it but each child is different so I was never at a loss of things to write.
The journal is theirs to keep and write in so that one day they can look back on how much their life has changed since becoming a college freshman. Keeping a journal is also a great way for college kids to relieve some of the anxiety they feel being away from home and starting a new chapter in their life.
If they have already left it is a great gift to receive in a care package!
Image via