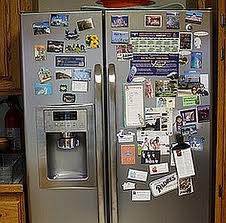 There is no question that the first thing you see when you walk into someone's kitchen is not the granite counter tops or the new sink they just had installed, but the hundreds of photos and magnets covering the doors of the refrigerator.
You try not to stare but your eye automatically goes to that spot.
When anyone asks me what is the one thing that can have an immediate impact on clearing clutter in a kitchen, I always suggest  removing all photographs and magnets from the refrigerator.
This can be upsetting to some because they pride themselves on collecting the magnets from every vacation and keeping Christmas card photos up all year around.
It is not surprising that when we remove "refrigerator door clutter" I always get the same reaction," it looks like a brand new refrigerator".
Look at the refrigerator above and look at the one below which one brings more calm and less stress to your kitchen environment?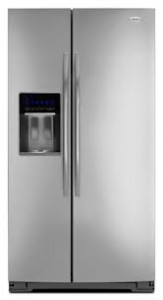 Removing refrigerator door clutter is quick and easy and has immediate impact to a clutter free kitchen.