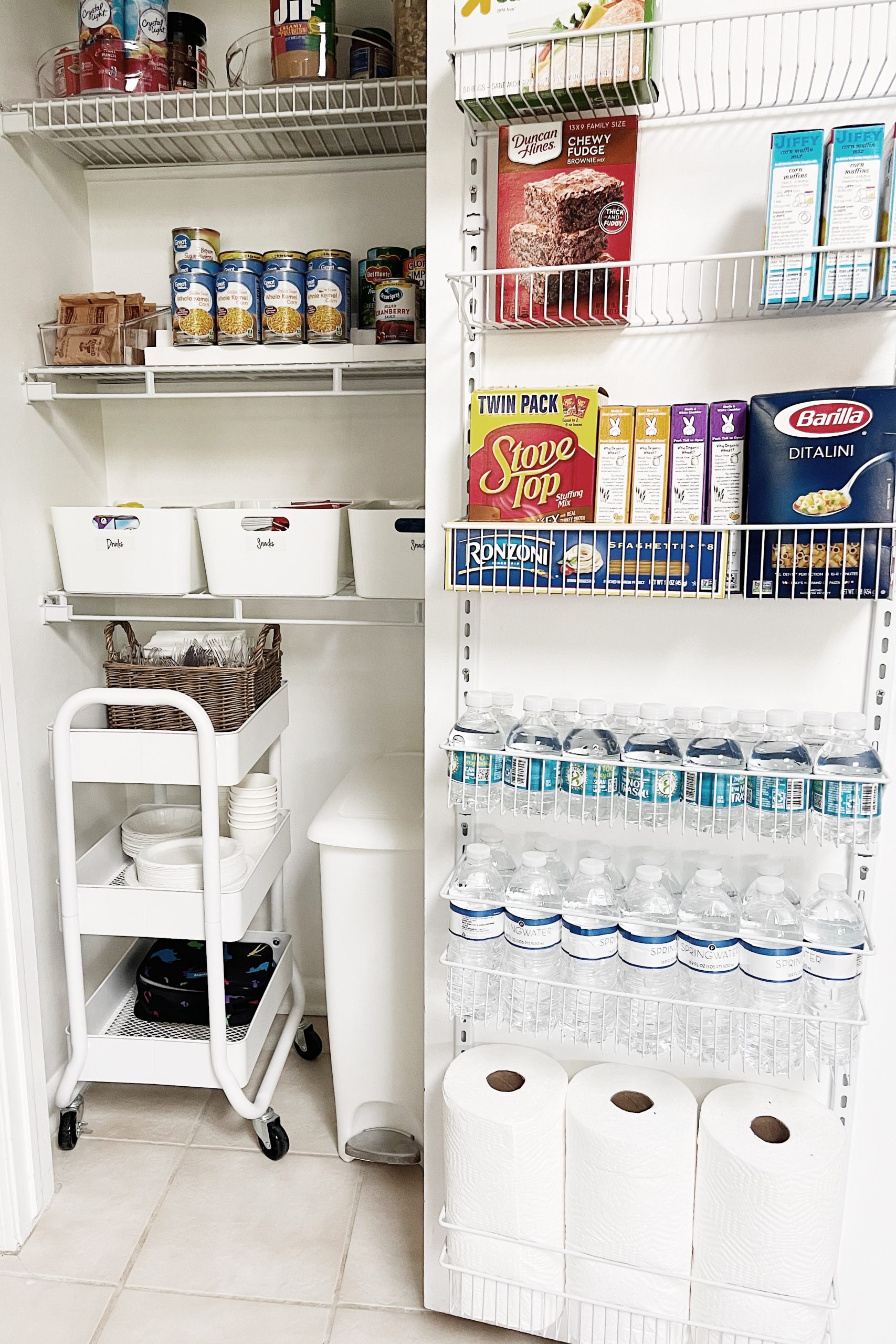 I'm so excited to share this kitchen and pantry project. My client and her husband have two young children and our goal was to make big changes without spending a lot of money.  They are planning on renovating in the future so this was a temporary fix to get her organized and enjoy the space until they are ready for future changes. She told me she avoided the kitchen as much as possible because it made her stressed, overwhelmed, and frustrated. My first impression of this kitchen and pantry was there was too much stuff and space was not being utilized properly especially in the pantry. These were the steps from beginning to end on how we transformed her kitchen.
Purge
The first thing we did was a heavy purge. We removed everything out of the cabinets, counters, and pantry, and yes I mean EVERYTHING! She was ready to let go of the items that were taking up space and never used so she made my job easy.
Rework the space
The next step in the process was discussing what was working for her and what was not. Sometimes all it takes is a second set of eyes to rework a space and make it flow better. We made a list of items that needed to be replaced and repaired to make the kitchen function better.
Measure the space
I took photos and measurements of all areas so I could start the process of finding the items that were functional, look good, and budget-friendly!
Painted the Pantry
She was very fortunate to have a handy husband so we took advantage of him and put him to work. I suggested we paint the pantry white to brighten it and they were amazed how a simple coat of white paint can make such a big difference. A new coat of paint is a simple way to freshen up ay area in your home without spending a lot of money.
Lighting 
The next thing that stuck out to me was the lighting or the lack of it. I always look at lighting whether in a closet or kitchen because good lighting can make any space better especially the kitchen which is the hub of the home. We added puck lights in the lower cabinets and changed the ceiling light to an affordable brighter option.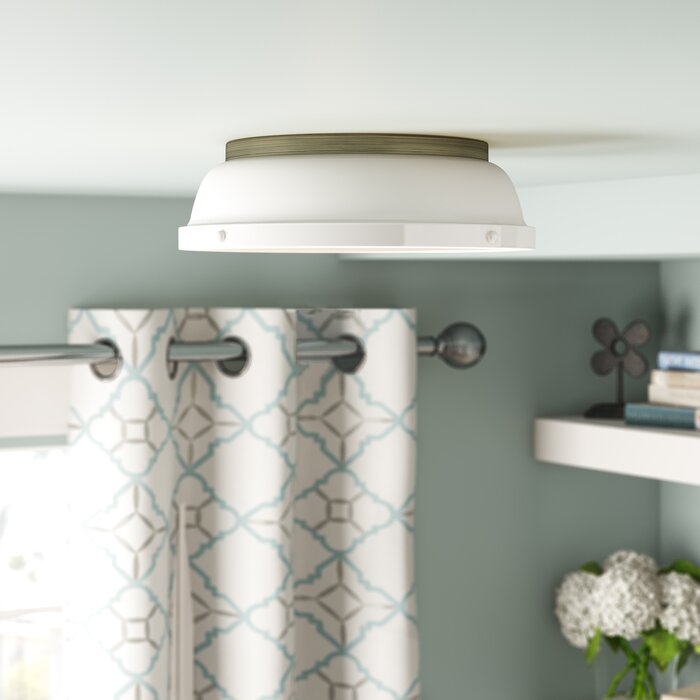 Photo Courtesy of Wayfair
Door Storage
I used this over the door system to add needed storage in the pantry. Many people overlook the door as an area that can provide extra storage, especially in small spaces.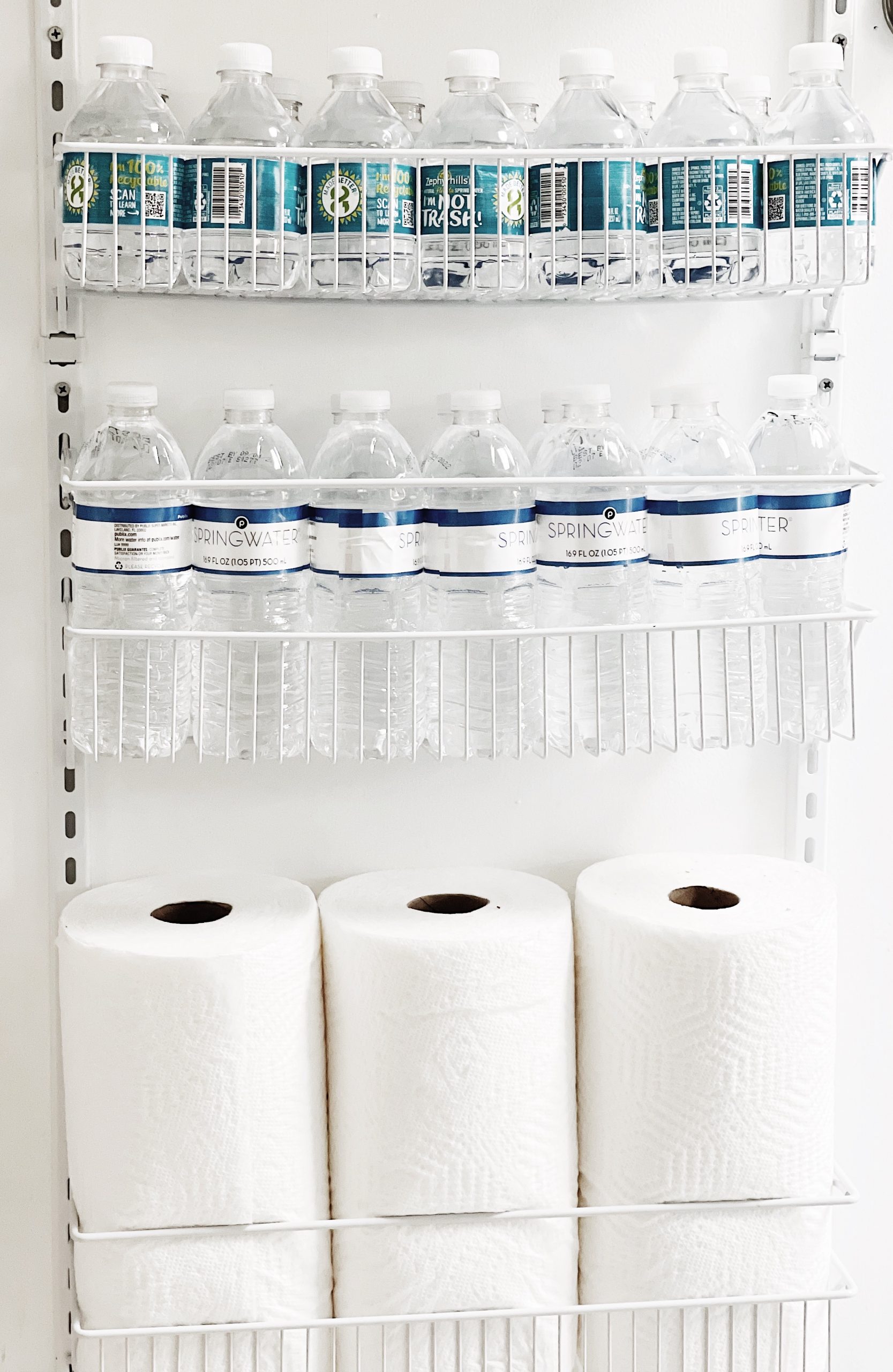 Rolling Cart
I added this cart for added pantry storage and it fits the space like it was made for it. We stored disposable paper products, lunch boxes, and this silverware caddy to keep utensils organized.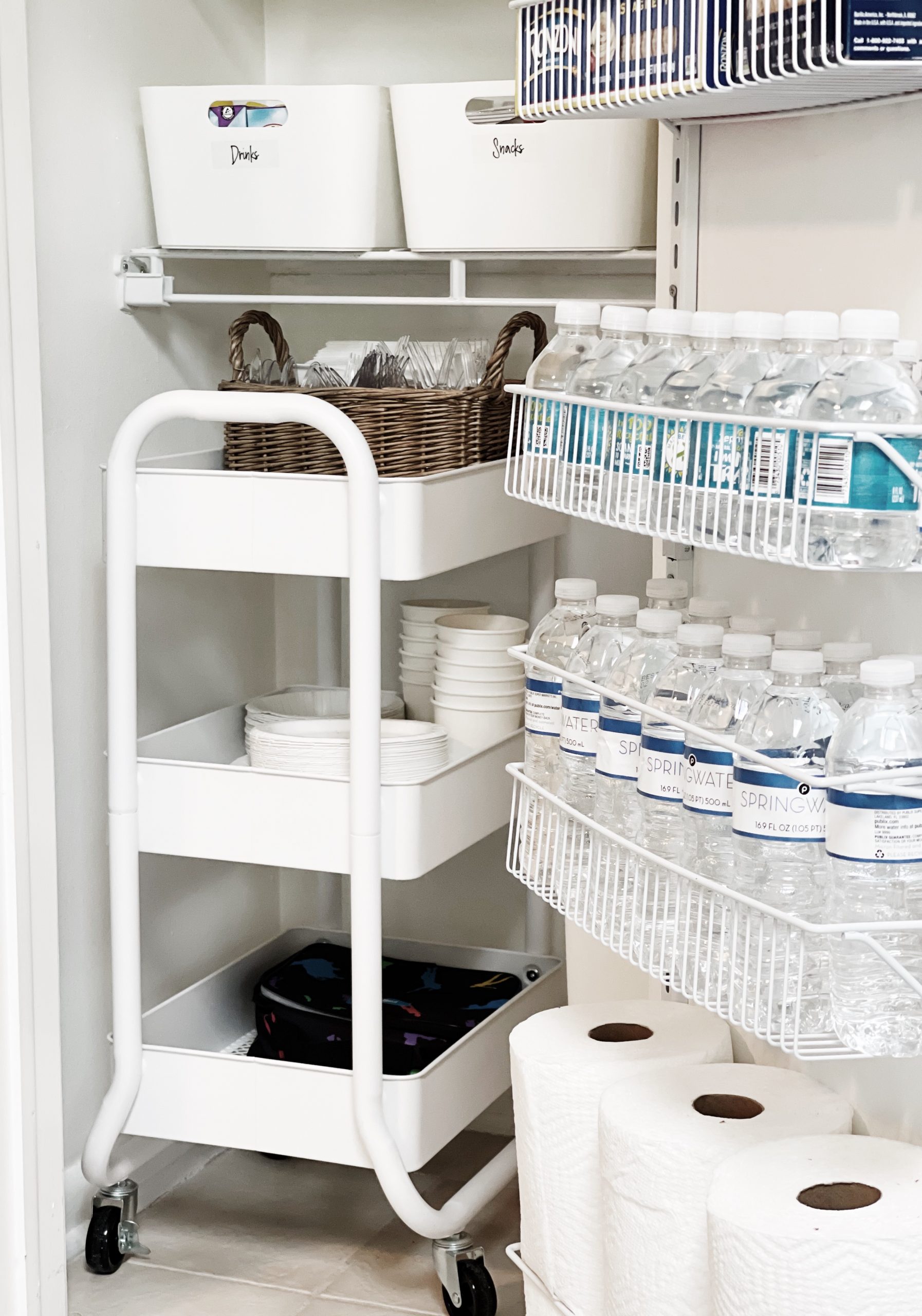 Pantry Storage
She already had wire shelving in the pantry so I added shelf liners for stability. I labeled white bins so the kids could grab their after-school snacks and help mom pack lunches. I also added an expandable shelf for canned goods and this favorite to store the kid's breakfast packets. The cereal containers and two lazy susans finished the space and my goal was to make sure she could see what she owns whenever she looks in the pantry. We used the top shelf for larger items that were seldom used but needed to be stored.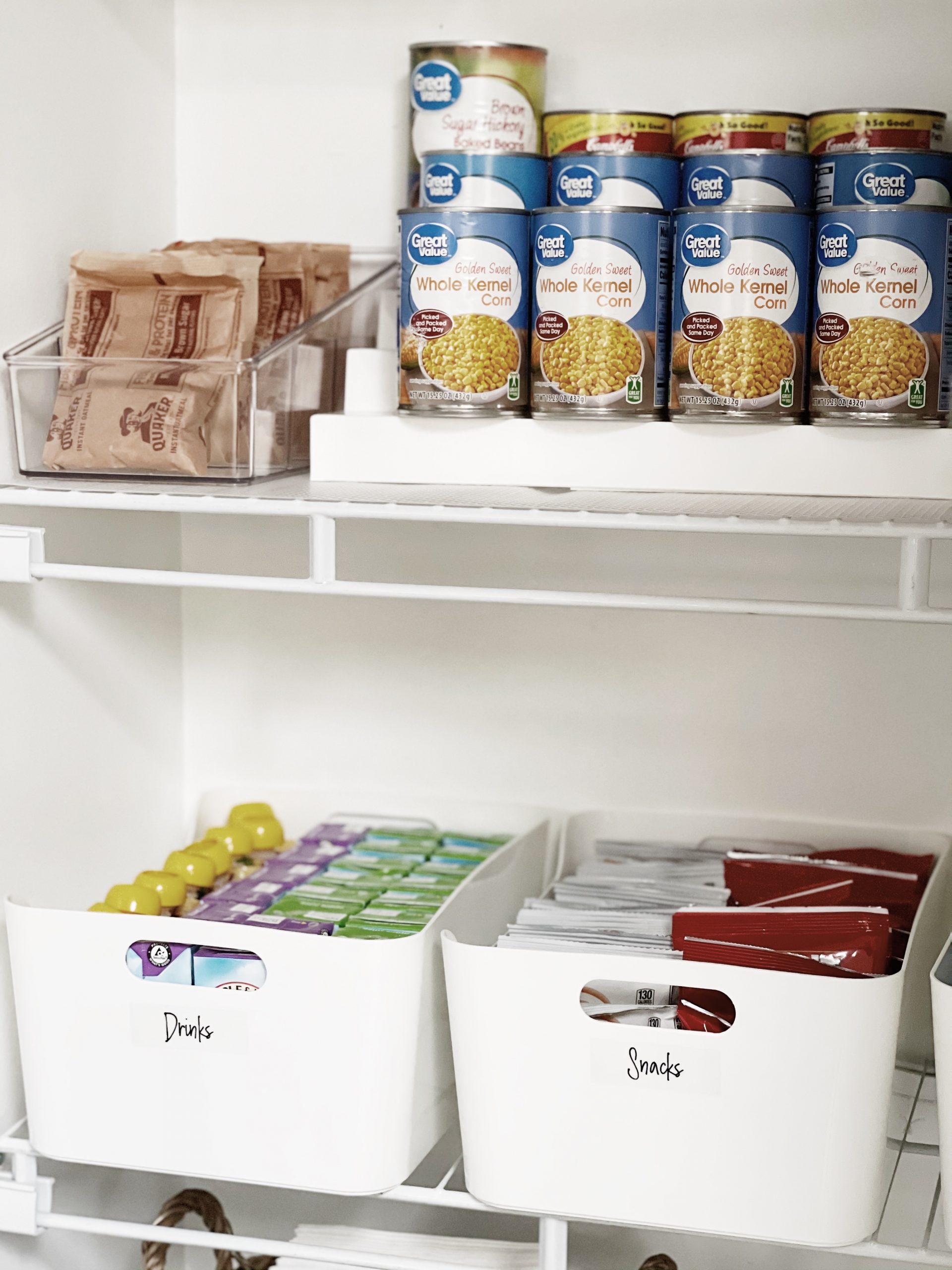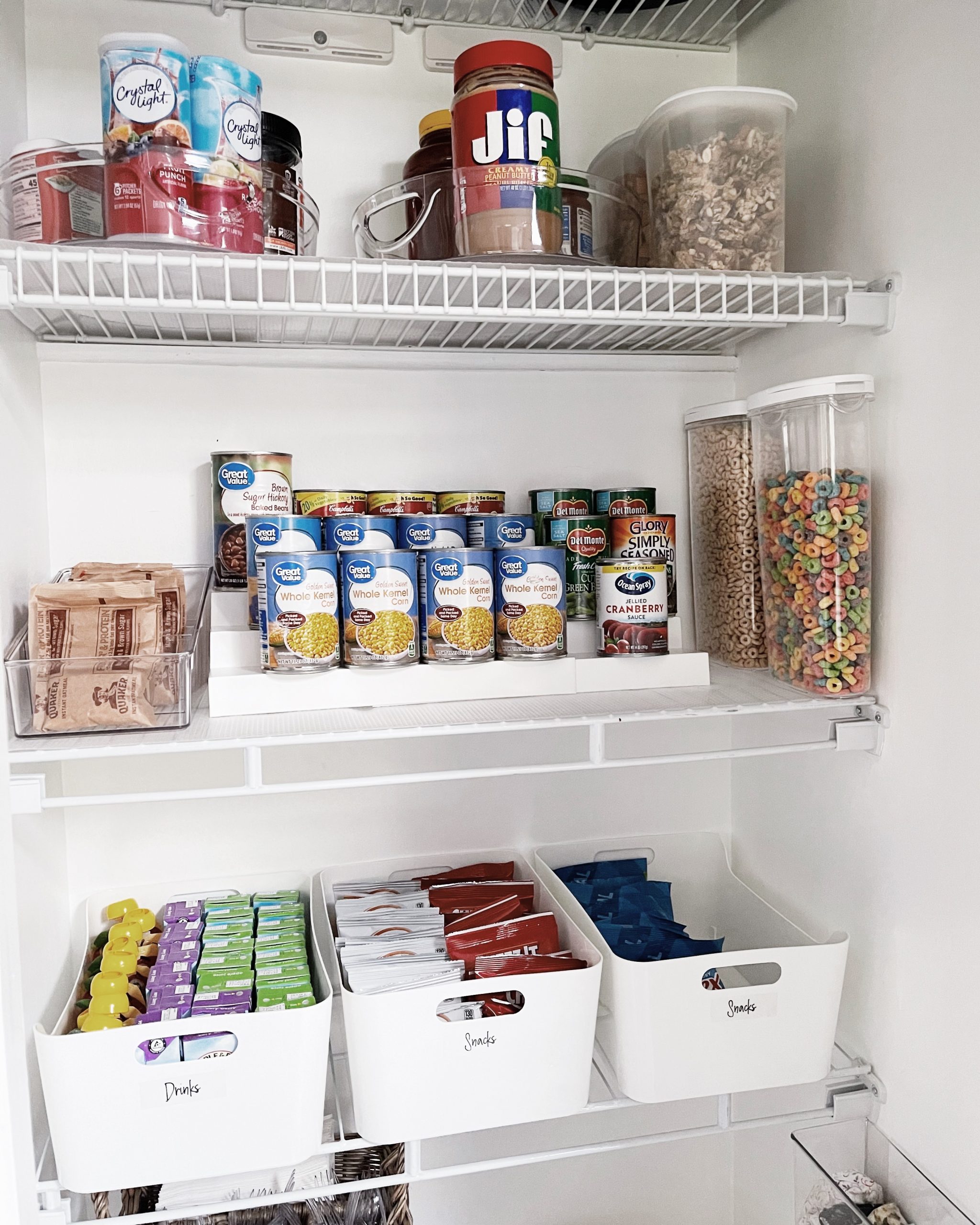 Cabinet Storage
Her cabinets had an unusual amount of vertical space so I utilized the height by adding a single lazy susan on the top for taller items and a double lazy Susan for spices and smaller items. even I also used these to stick on the inside of the cabinet door for spice packs and one on the wall in the pantry to store masks. Wearing masks is a reality so we decided to have a place she could store them and conveniently grab them for the kids when packing lunches.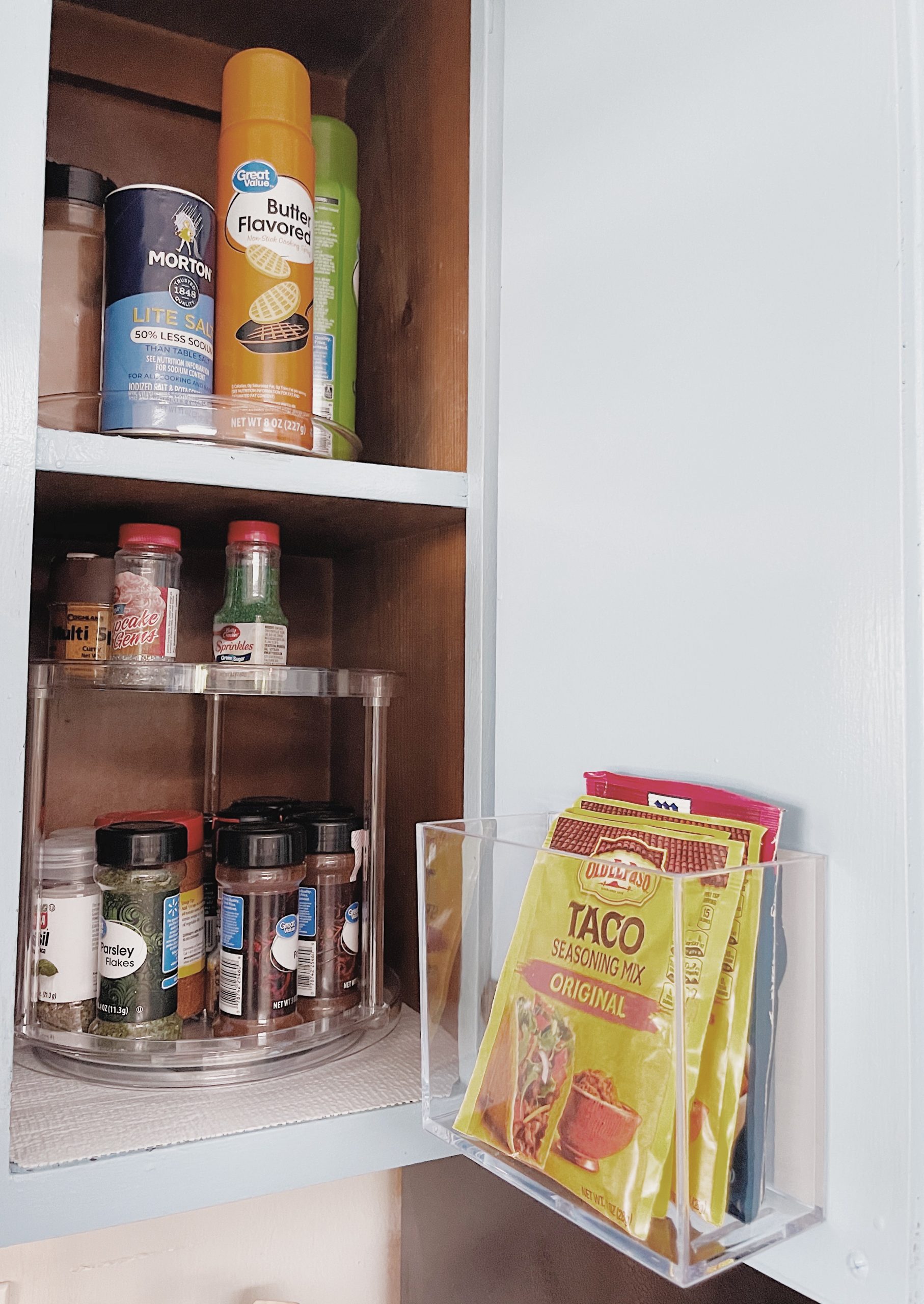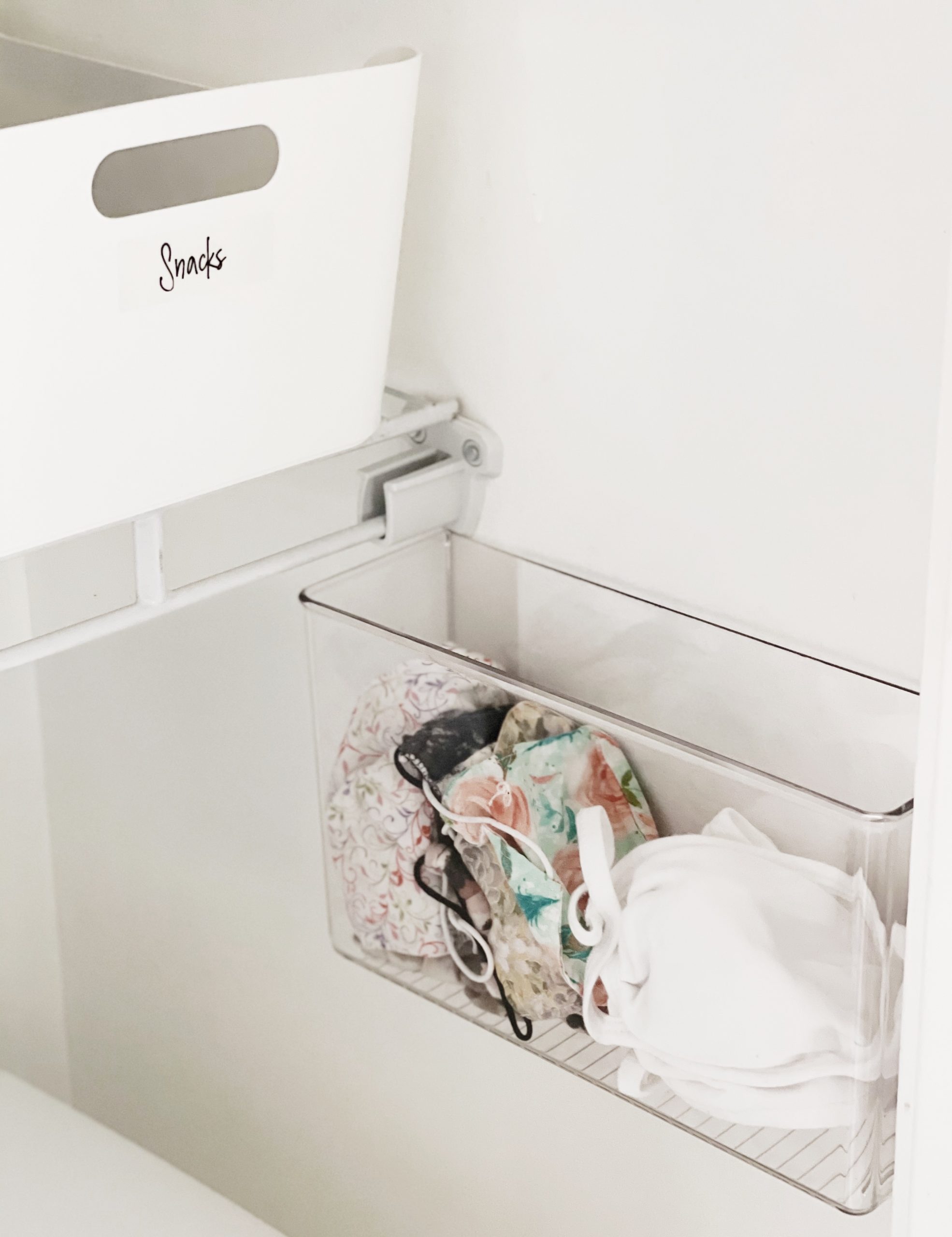 Garbage Can
Why a new garbage can? Sounds trivial but made a big difference in her crisp freshly pained white pantry. Her other one was black and had seen better days so we added this new white one which was narrow and fit the space perfectly.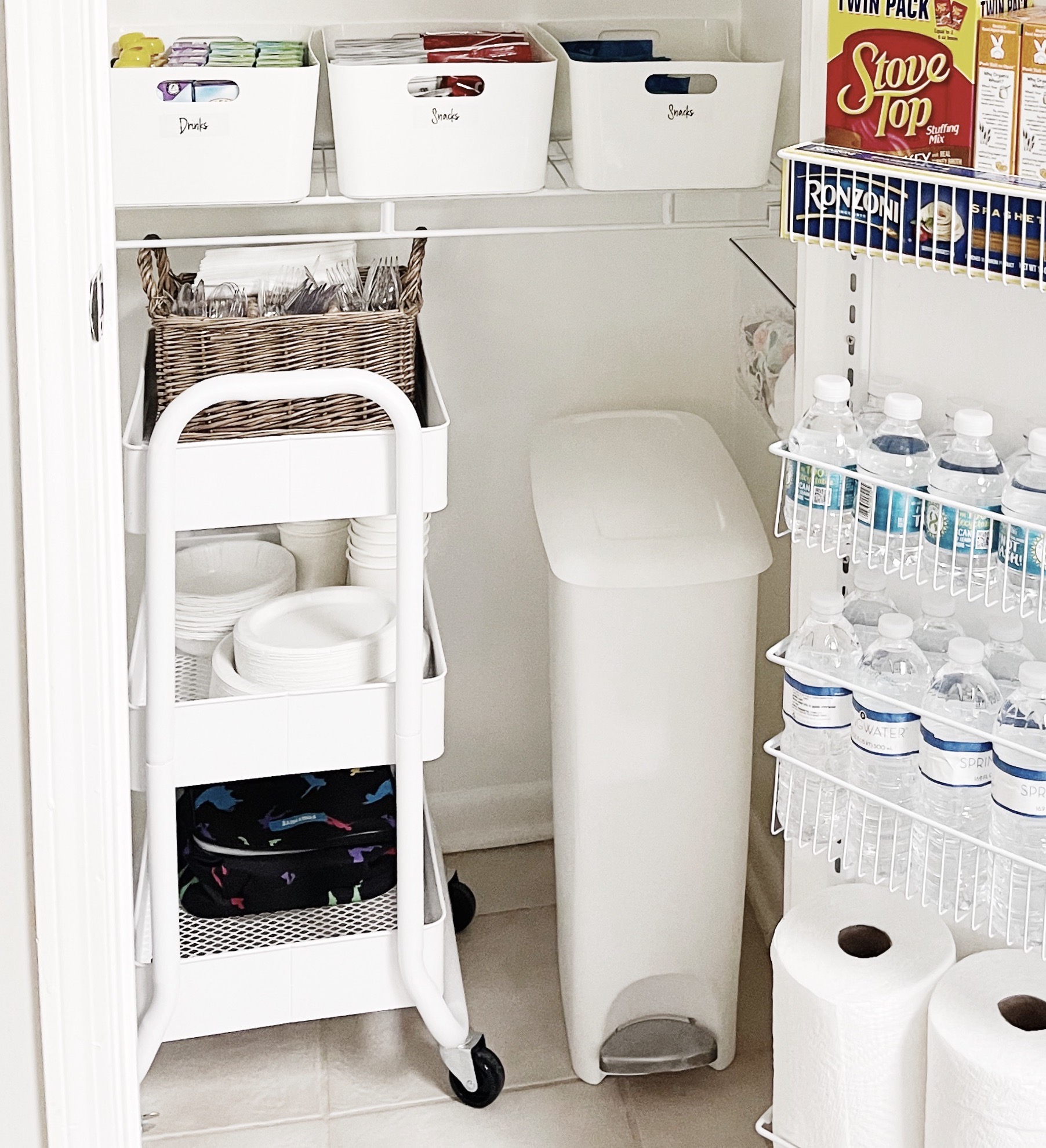 COFFEE BAR
I wanted to create a coffee bar because she and her husband are coffee drinkers and there was the perfect area in the kitchen for making this possible. The existing space had a dark piece of furniture that was not functional and provided no storage. I added this cart and it not only brightened up the area but was reasonably priced and a perfect fit. By moving the coffee pot it freed up space on her countertop near the stove which is a plus when you are cooking.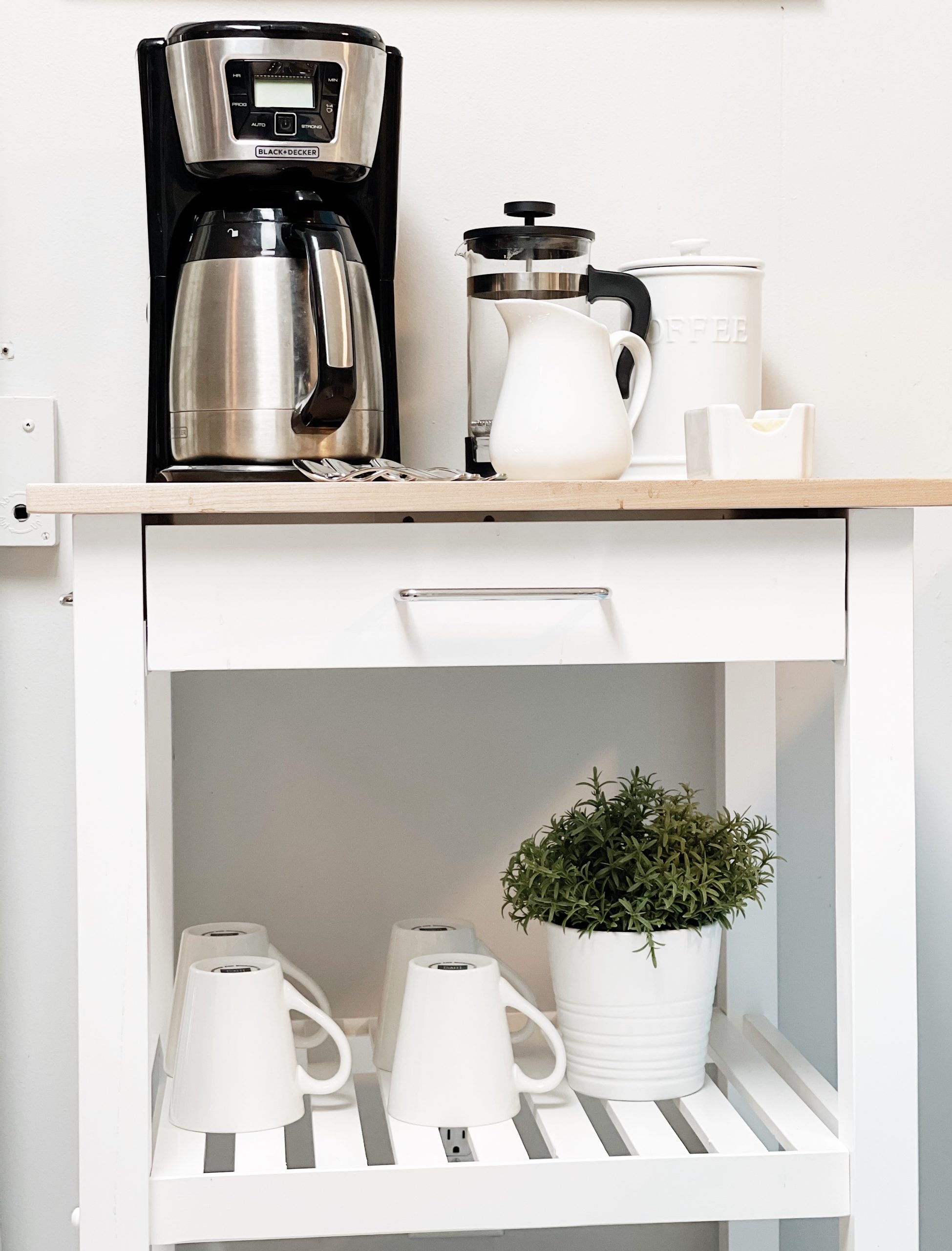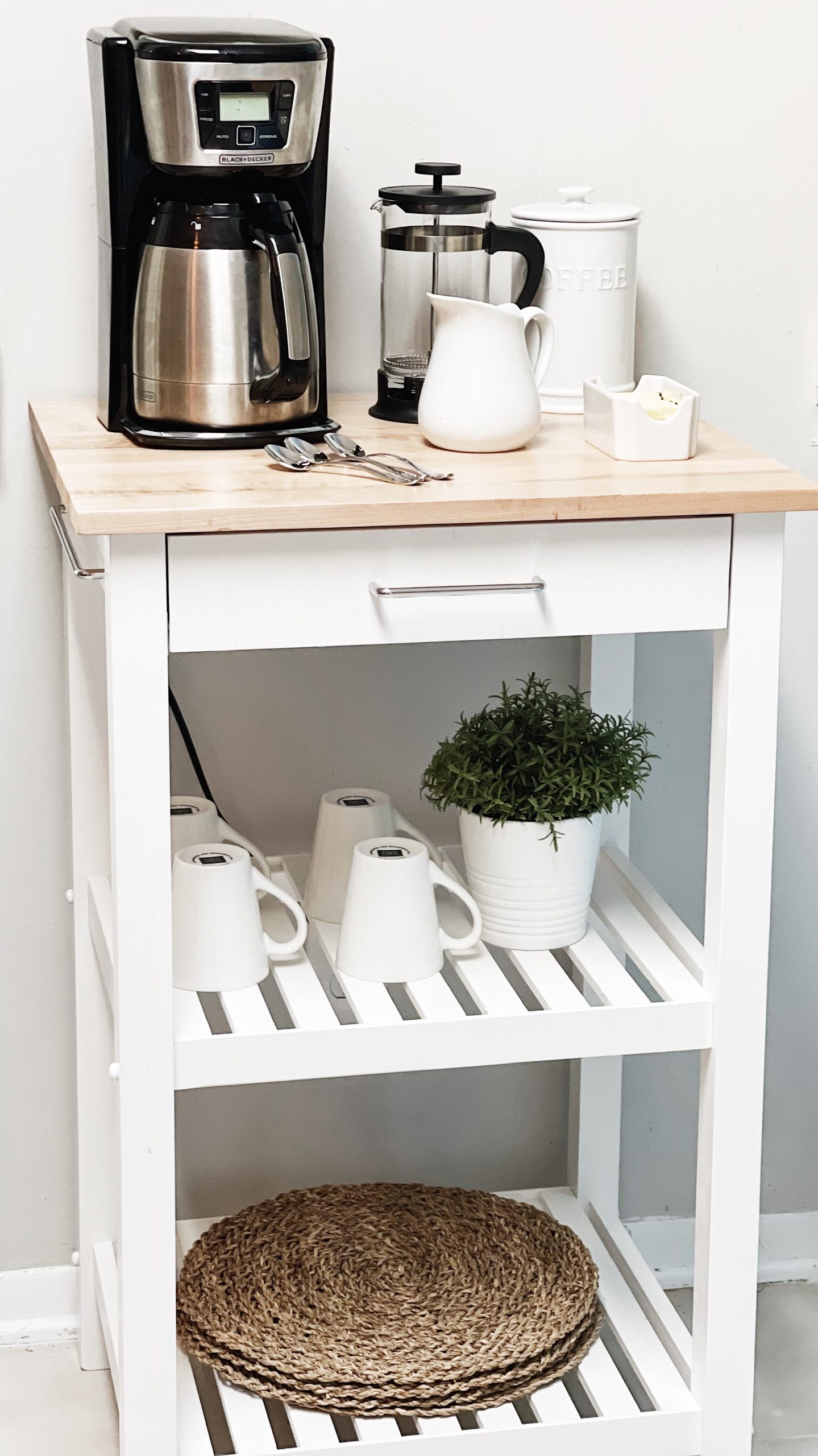 Keep it Simple
One thing I did from beginning to end in this project was to keep it simple! The open shelving in the kitchen had various items on it and the client said it was not functional at all. Since her cabinets were blue I decided to stick with one color and use the shelves for her everyday dishes. It not only makes them easily accessible at mealtime but gave her added storage in her cabinets. I chose these white dishes because they were simple, inexpensive, and looked great on the shelves. I decanted some of her everyday items into these containers and added a touch of greenery. To say she was pleased with the results is an understatement. She now loves being in her kitchen and that was my goal!
Some of the links in this post are affiliate links, which means I earn a small commission at no additional cost to you. I only recommend products I personally use.