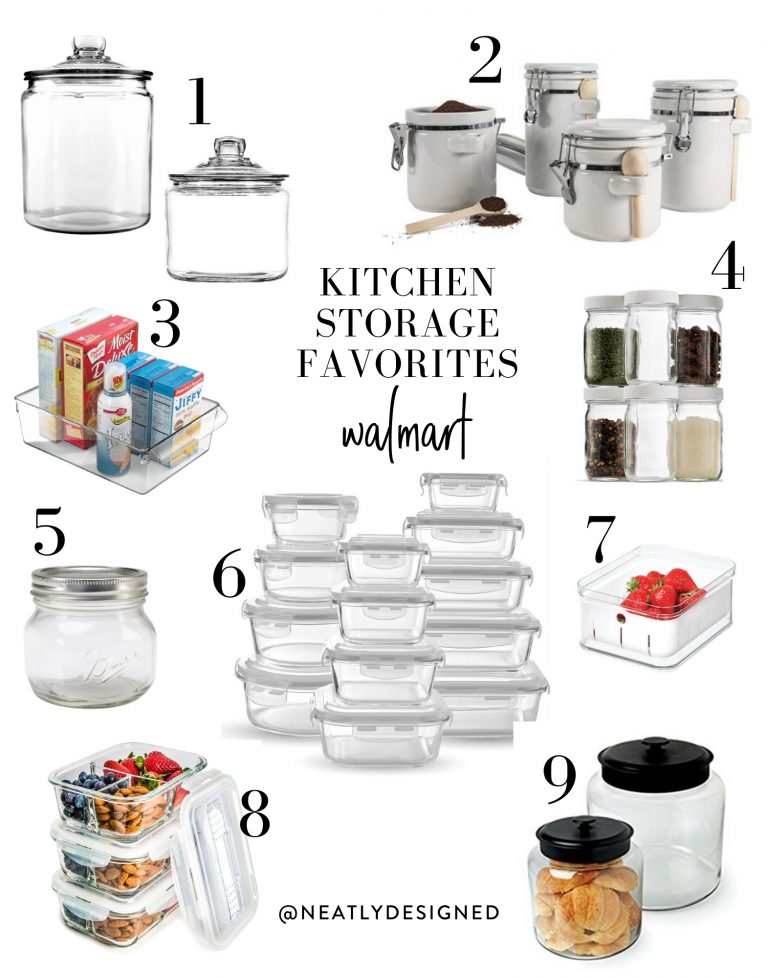 1. Lidded Glass Jars  The options are endless on what you can store in these jars. I use them for coffee, flour, sugar and keep them on the counter but they would look great in a pantry too! They come in many different sizes and these labels add the finishing touch!
2. White Ceramic Canister Set 4 piece This inexpensive canister set is another option to store everyday essentials. Use these chalkboard labels and personalize what is being stored.
3. iDesign Pantry Organizer These are a favorite to keep food items organized in a cabinet or refrigerator and they have a handle to make it easy to access what you need and slide back in.
4. Mini 4 Ounce Mason Jars (24-pack) These are really great because it can be so hard to find the perfect jar for smaller items. Store spices, oils, powders for tea or arts and crafts. These round clear labels are simple and fit smaller jars perfectly.
5. Ball Glass Wide Mouth Mason Jar Ball Jars are mainly used for canning but these wide mouth jars can be used to store leftover food, arts and crafts, pantry items, spices and they are just so cute!
6. Glass Food Containers (13 piece set) I love using glass storage containers because they can be reused and go in the dishwasher. When you have a big group for the holidays these make storing leftovers a breeze.
7. iDesign Stackable Refrigerator Berry Bin My family is a big fan of all types of berries and these make it easy to clean and store fruits and vegetables. They also keep items fresh longer which is another plus!
8. Glass Meal Prep Containers (3-pack) These are a favorite because they make prepping and storing meals a breeze which will come in handy during the hectic holiday season. These are also glass so they can go in the dishwasher too!
9. Montana Kitchen Canister If you love the farmhouse style these would look great on a kitchen counter or in a pantry. The black lids are modern but with a classic design.
Take advantage of Cyber Monday deals and get your kitchen organized!