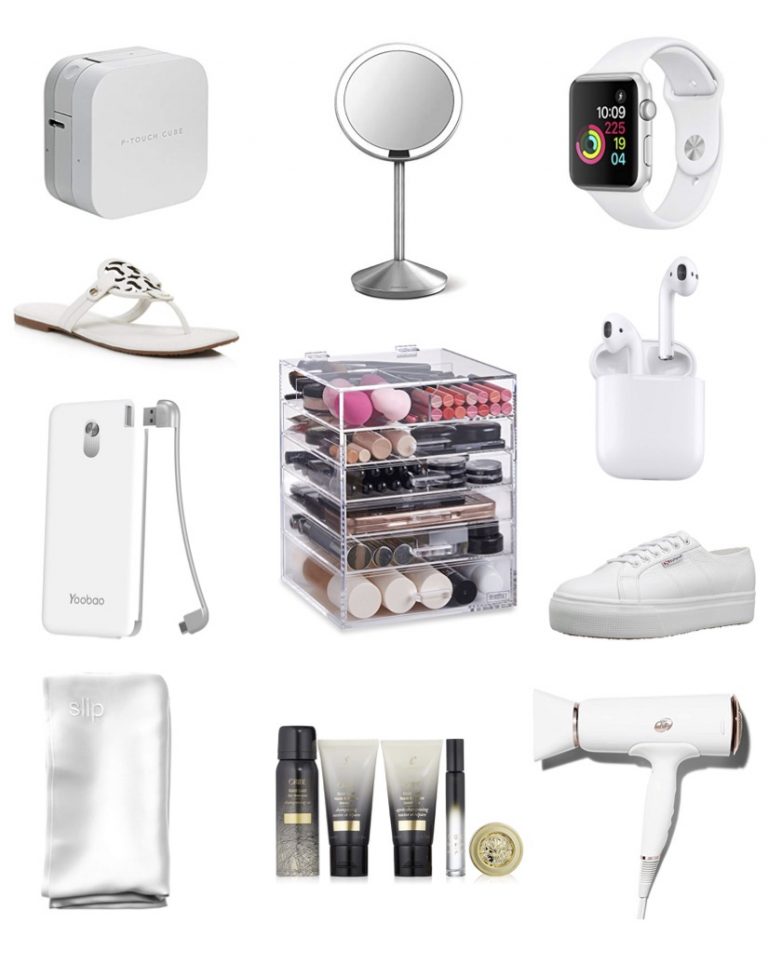 Label Maker | Mirror |Apple Watch | Sandals | Makeup Organizer | Apple AirPods | Portable Charger | Sneakers | Silk Pillow Case | Oribe Hair Products | T3 Dryer
Are you still looking for some last minute gifts? These are a few of my favorites that you can still get on Amazon. I have to admit this year I became more of a cyber shopper beause of the convenience and I'm a Prime member so I love how fast everything arrives.
If you have been reading my blog or following me on Instagram you know that I definately have lots of hair! I'm very picky about my hair care products and one of my favorites is Oribe. I have tried so many dry shampoos and hands down they have the best! My other favorite hair essential is the T3 Dryer . When you have hair as thick as mine you need a dryer that is fast drying and also smooths the hair. This one definitely does the trick! While we are on the topic of hair this silk pillowcase not only helps in the anti aging department but also extends my blow out!
As an organizer I have to mention how much the organized person in your life would love a label maker. This Brother P-Touch Cube has bluetooth wireless technology which makes it so easy to use after downloading the App. Once you own a lable maker you will wonder how you ever lived without it!
Everyone needs the "just in case my battery dies" portable charger! This is a favorite because the cord is built into the charger. No more remembering the charger but forgetting the cord to connect to the phone. This is a gift anyone would love!
Since we are talking about phones here's another favorite, the Apple AirPods (hint, hint to my husband). I love to garden and spend time outdoors and I was so excited when I heard the ear phones were now wireless. I cannot tell you how many times I have pulled my head phones out of my ears by accident or out of my phone. 
I know its hard to think about wearing sandals in the middle of winter but these are my favorites. I have them in a few colors and wear them all summer long. Most importantly they are so comfortable you will wear them around the house like slippers.
After a certain age your vision needs a bit of help especially when you're putting on makeup. This magnifying travel mirror is not only perfect for traveling but is great for home too! Sensor lighting and 10x magnification are an over 50 womans dream!
Many woman would love the gift of makeup organization they just don't know where to begin. This acrylic organizer will not only look good on a vanity or counter top but has the space to keep all your makeup essentials neat and organized.
If your Mom, sister or wife likes to wear a shoe with a bit of a heel or platform they will love these sneakers. They are not only fashionable but give you a bit of height when you are wearing casual clothes. I love the white because they go with everything.
For more gift and organization ideas head over to my Amazon page.