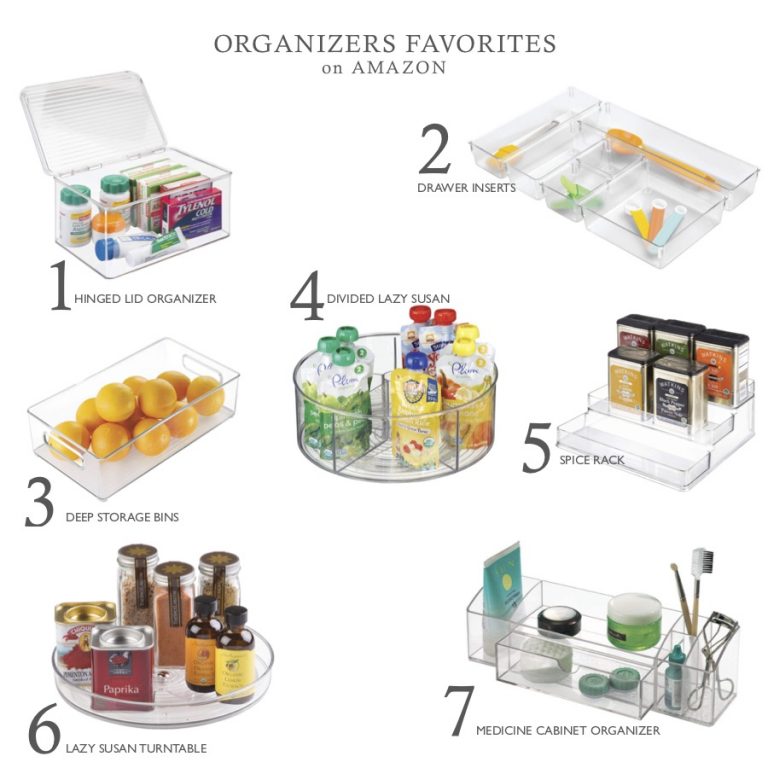 Today I want to share some of the products I use to organize the kitchen, pantry, and bath.  My go-to items are usually clear containers and various types of lazy susans. They allow you to see what you own which prevents overbuying and saves money! Before you start any project purge items you no longer need, use, love or have room to store. Sort like items and measure the space before you purchase anything! Containers can quickly become clutter so its important to find products that fit the space properly. 
Lidded Storage Container
These containers are a favorite because they can be used to store so many different items and they stack to make use of valuable vertical space in the bathroom, laundry room, kitchen, and playroom. Useful for first aid, crayons, markers, kids toys, school supplies or any other small items you want to keep organized.
Drawer Inserts
In my opinion, every drawer would benefit from an insert. They keep drawers organized and ensure everything has a home. When you take something out you will have a place to put it back. Small things can make a big difference when it comes to staying organized. 
Deep Storage Bins
Shelves come in many different depths and that is why I love these deep storage bins. They fit perfectly on deeper shelves and keep pantries and refrigerators neat and organized. The handles provide easy access and are clear so you can easily see what is being stored.
Divided Lazy Susans
This is a favorite because it is has dividers and higher sides which are great for keeping cleaning supplies, lotions, and hair care products organized under the sink. They also work well in pantries and refrigerators to keep food items organized. The ideas are endless and once you have used one you will wonder how you lived without it.
Spice Rack
How can something so simple and inexpensive work so well to keep you organized? Keeping spices all in one place not only makes preparing meals easier but will save time looking for that one spice you knew you bought but couldn't find.
Lazy Susan Turntable
As you can see there are many options when it comes to choosing a lazy susan and this is another one of my favorites. Turn hard to reach corners in cabinets into usable space with a simple turntable. Keep baking essentials, canned goods, oils, vitamins or anything that you need easy access to on a regular basis.
 Medicine Cabinet Organizer
Medicine cabinets can become cluttered quickly and adding an organizer helps keep your daily essentials organized. This is a favorite because of the added drawer which is perfect for qtips and cotton pads.
These are just a few of my favorites that are not only functional but look great too! Remember you don't have to spend a lot of money to get organized. If you want to see more of my favorites and get ideas on getting organized go to my Amazon Storefront.