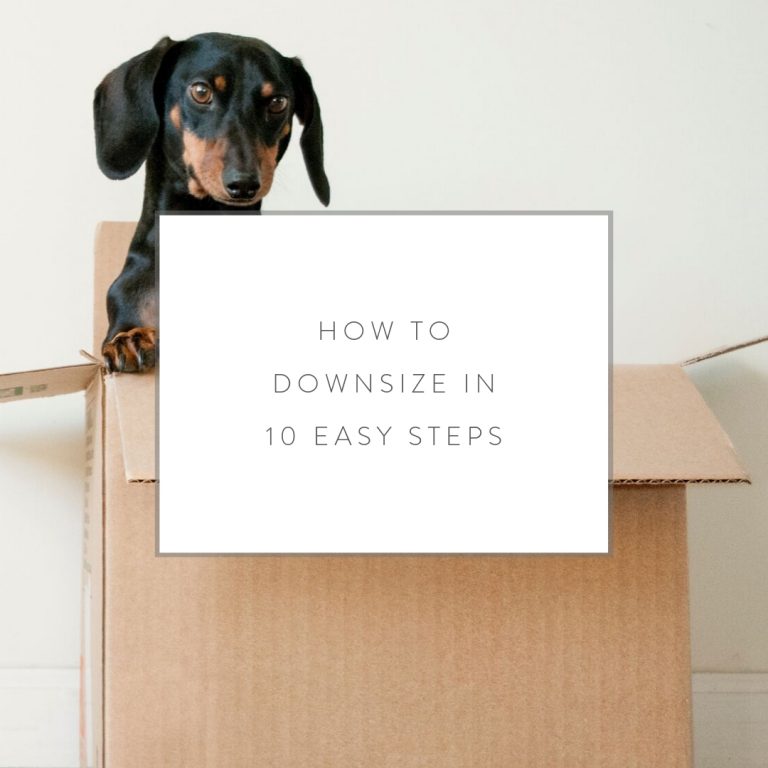 Downsizing, just the word can sound scary. Going through each room and thinking to yourself how am I going to fit all of this into my new place? Where do I begin? It doesn't take a mathematician to know you cannot fit the same amount of items from a large house into a much smaller space without getting rid of things you do not need or use. As an organizer, my job is to come in and make the process as stress-free and seamless as possible. These are a few of my tips to begin the downsizing process.
Start Early
When clients hire me to help them downsize the first thing I suggest is to start early. The immediate reaction I get is panic which is exactly what preparing early will avoid. If you wait until the last minute to begin it will cause stress, frustration and you will feel that nothing is getting accomplished. It's never to early to get your move ready and organized.
Purge on the Front End 
I'm often asked when I help a client downsize should I purge now or wait until I move into my new home? Always in my opinion purge before you move! You don't want to start in a new home with things you don't need, use or love. Leave those items behind and start a new beginning by simplifying your new space.
Keep Lists
This one tip is a lifesaver. Keeping lists in a notebook or on your phone will enable you to check off what you have completed and also see what still needs to get done.
Hire A Professional
Sometimes when people are downsizing they are saying goodbye to a home filled with years of memories and it can be a difficult task. Hiring a professional will guide you through the process and help you decide what to keep and what to let go. A family member may be as emotional as you and it can become counterproductive if they pick up each item you have decided to get rid of and ask  the dreaded question "you're not getting rid of that are you?" Hire professionals who will make the transition easier not more difficult.
Find An Appraiser
If you feel you have valuable art or antiques find an appraiser in your area to let you know the value of an item and if it's worth keeping and moving.
Keep, Toss, Donate
Keep, toss and donate are three words that sound simple but can be very difficult. Start by designating an area in your home for all the items you want to keep. Toss the items you can't donate and try to coordinate that task before garbage day. I recommend scheduling donation pickups at least once a week before you move. It will motivate you to start the process and remove items you no longer want so that you can focus on what you are taking with you. If you don't need the appointments you can always cancel them. Use Post-it notes to label items that you are donating, moving or giving to friends and family that includes art, lamps, and furniture. It is so simple and definitely alleviates some of the stress especially weeks leading up to the move.
Take Photos
Now that we are in the digital world it is easy to sell items online. Take photos of items you want to sell and also the items you want to move. Compare the cost of shipping or moving an item to your new location vs. selling or donating. Now is the time to decide what you will do with the furniture items you no longer want to keep.
Downsize Your Books
Books take up a lot of space in a home but especially in a smaller home. Keep the ones you love and donate the rest to a library or homeless shelter.
Relax and Settle In
Once you have moved and unpacked relax and live in the space for a while. You may have more items to purge and I suggest getting into a normal routine so you know what organizing items you need to buy. Do you need more storage under the sink? Drawer organizers in the bathroom? Living in a space for a few weeks allows you the time to make lists and figure out what you need in order to call your new place home.
Don't Forget About The Storage Unit
When you are downsizing the whole point is to purge the past and start a new future. If you are still holding onto storage units that you never go to and you have no idea what is in them you really haven't completed the job. You will save money, feel less guilt and stress by finally letting go of the storage unit or units!
One thing I hear from many clients that have downsized is how freeing it was to purge their lives of all of the things they thought they would use, and never did, and stored for many years. Their life is much simpler. They have less maintenance, fewer taxes, less to insure and more leisure time to enjoy the things they like to do. I look at downsizing as the start of a new and exciting chapter in your life.